HM-Series
HM50Fis Fully Electric Hot Chamber Die Casting Machine which utilizing an electric servo motor the driving of die locking, ejection and injection, moreover, the motor drive was adopted for the nozzle touch mechanism. With minimized hydraulic fluid and excellent noise reduction our machine is environmentally friendly and creates a clean and safe working environment. In addition, with easily adjustable speed torque, high precision production is fully achievable.


Features of HM50F
Adopted the all-electric, and establish a reduction-clean work environment of energy-saving and noise
Is easy to speed-torque adjustment, high repeatability, enabling stable production
STANDARD


▶ Energy Saving

For the hydraulic type machine hydralic pump will be always active. For the electric type machine servo motor only operate for a while when die loking, ejector or injection mech-anism is moving, For nozzle touch mechanism, it can be operated continuously without electric power by mechanical brake to hold the nozzle touch force. Power consumption reduces 70% compared with a hydraulic type machines.(compare with our same type machine without combustion system), It greatly contributes to energy conservation. 
▶ Considerations for the environment

Because it have no hydraulic pump, so machine is not need to using hydraulic fluid, it results of noise reduce and create a clean and safe working environment, Reduction of machine cooling water, we make the environmentally friendly die casting machine.


▶ Quality Improvement

With the injection speed feedback by the servo motor control, compared with the conven-tional hydraulic machine it is possible to makes stable and high precision casting continually. Use the injection-control brake function, it can be reduce such as flash by high response, also the details setting function, it can make contribute improve the quality of products. 
OPTION
▶ Medium blow servo spray equipment【MCR-S Series】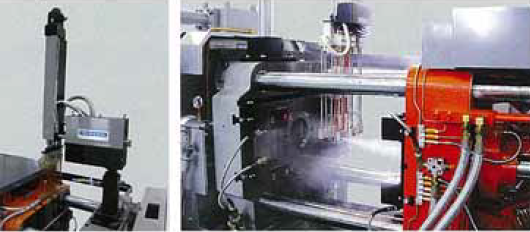 Whereas in the conventional hydraulic machine affected injection speed due to a disturbance, and by performing the speed feedback in the electric servo control, and contributes to the corrected mass casting of stable quality to disturbance. Also, now available delicate injection setting decided such as injection control for pressing the burr by high response.
▶ Servo trimming device【TP-M Series】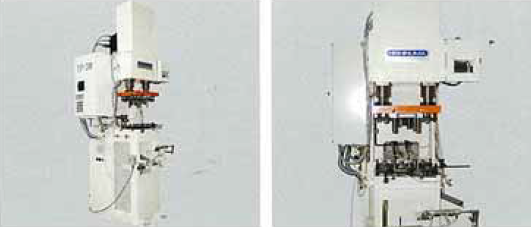 Arbitrarily set the drop speed torque. You can optimum operation registration combined to use.
Since the hydraulic pump is not required, because it does not use any hydraulic oil, you also realize without clean work environment noise.
Technical Data
| | |
| --- | --- |
| Die locking force | 500kN |
| Space between tie bars | 326×302mm |
| Die stroke | 215mm |
| Die height | 170~340mm |
| Injection force | 50kN |
| Injection stroke | 130mm |
| Ejector force | 30kN |
| Ejector stroke | 70mm |
| Nozzle touch force | 28kN |
| Nozzle touch stroke | 180mm |
| injection plunger diameter | Φ50mm |
| Casting pressure | 26.4MPa |
| Casting area(casting efficiency100%) | 189cm2 |
| Maximum shot weight(casting efficiency75%) | 1.28kg |
| Power supply capacity | 20KVA |
| Weight of machine | 5ton |
The above specifications may vary depending on the model.
Please note that the above specifications are subject to change without notice.